Most of the time, I only work with under market value property investors with at least $50,000 cash, and preferably $250,000 cash or more.
However, I once started out in San Antonio investment properties without any capital, so I wanted to sketch out quickly how you can make $30,000+ out of $10,000 in a year.
It is possible with my guidance to buy an under market value property with a hard money lender, do $1000-$5000 in clean up and rehab, and flip it to another investor/cash buyer.
On each of these hard money deals, you will need to have $8000 to $10,000 invested. Then, when the deal sells, you will make $8000 to $10000, after your hard money expenses and closing costs.
Hold On!
This is the point where many typical below market value property investors will smirk and say, why bother? Who cares about making a piddly $8000?
Ah :), that is why I financially retired at 28 and you most likely did not. I NEVER turn up my nose at making $5000 or $7000 or $8000 on a deal! Never!
You know what I do? I do 50 of those deals per year, in addition to my large buy and hold investment portfolio, and make another $300,000!
I strongly believe in doing a lot of small San Antonio investment property deals. When you do just four of those deals per year, you can triple your money….transform $10,000 into $30,000 or more. Then you can afford to do more than 1 flip at a time, and do eight per year and make $64,000…..see where this is going?
Of course, in the end, I am a buy and hold investor, and I would advise you after you have at least $100,000 to invest in long term buy and hold, owner financed properties in San Antonio. Then do 2-3 of these quick flips per year to increase your cash as you need it to do more buy and holds.
Here is a fantastic San Antonio investment property for the out of state investor that will make you a quick $8000 to $10,000.
ONE LAST THING!
Before I show you this San Antonio investment property, if you want to turn $10,000 into $30,000, you need to do the following:
Listen to what I tell you to do and do not question it.
Do not doubt my ARVs or rehab costs.
Do not call me every day asking when your house will resell.
I know exactly what I am doing, and it is important for you to trust me.
Out of state investment property investors, this San Antonio investment property has two houses on one lot and offers you a quick $10,000 on a clean and resell flip, or 13-14% ROI on a buy and hold.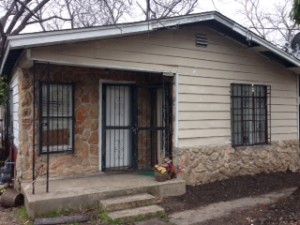 Address: 3230

La

Violeta

St., San Antonio, TX 78211-3728
Year Built: 1950
Description: 2 homes for the price of one;  Home #1, 3 beds 2 bath, 928 sqft, built: 1950, lot size: .15 acres, home needs minor plumbing, carpentry, paint, cleaning, estimated rehab cost 10K, Home #2, 2 beds, 1 bath, 600 sqft, has been remodeled no repairs needed
Cash Price: $58,000.
Exit Strategy: Owner Finance with 10K repairs: 5-10k down, $900.00 monthly P/I, 30 year amortization, 10% interest, Price: 89K, ROI will be 13-14% per year. ; or do $1500 in quick clean up and flip to another investor at $69,900. This is a 2 for 1 deal and will resell quickly.
More Pictures:
Investors, you will never see a San Francisco investment property, Los Angeles or a Seattle investment property at this price point and rate of return! This under market value property is a good option to invest in real estate with IRA, or invest in real estate with 401k.