Forbes Says San Antonio TX  Is #3 Best Place to Invest for 2016!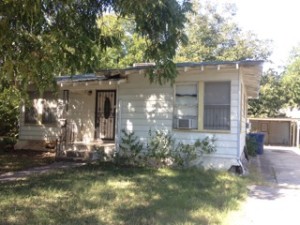 Interested in building a cashflowing, affordable rental portfolio? This under market value property is a great start! We are a full service wholesale property investment firm that will guide you to build a long term portfolio of rental properties.
We recommend that cash investors do two or three of these San Antonio investment properties, rent them out section 8, and then pull cash out and do more. Contact us now.
Address: 2315 W Poplar St., San Antonio, TX 78207
Description: Excellent San Antonio investment property, booming San Antonio Market, very popular location west of downtown San Antonio, voted one of the best places to invest in Forbes Magazine,  3 beds, 2 bath, 1,200 sqft, lot size: .09 acres, estimated repairs: 35K, paint in/out, new HVAC, plumbing/electrical up to code, flooring, update kitchen/bath, new sewer line connections.
Price: $42,000 CASH;  ARV: 99K, see attached comps and photos


You have 3 exit strategy options:
FLIP: Retail sale of this San Antonio investment property  w/35k in repairs: ARV: 99K with FHA, VA, Conventional financing. $10,000 profit is bottom line.
BUY AND HOLD: Owner Finance w/35K in repairs: 5k down, $995 monthly P/I, 30 year amortization, 10% interest, Price: 99K
BUY AND HOLD: Rent: $995 monthly with 35K in repairs.
Notes: If you owner finance this San Antonio wholesale property, you will earn ~13-14% ROI, with no maintenance.
For More Information or to Make Offer: Please contact us.
Comps: Sold Comps 2315 Poplar St Rental Comps 2315 Poplar St