As late as 2014, many California investment property firms were buying up dozens of single family homes in Los Angeles, San Francisco and Seattle and then leasing them out.
This was a true flood of cash into California investment property, and helped to push many working families out of the real estate market in California.
But as of 2015, many California investment property companies stopped buying in California, both northern and southern. These investors found that the prices had hit a ceiling and there were no more bargains to be had. In short, there were no more under market value properties; everything was over market value.
Blackstone Group, a major California investment property buyer, cut its purchases of California properties by 90% in 2015. And Oaktree Capital in Los Angeles has been trying to sell off its portfolio of 500 California investment properties.
That is a big changed from 2014, when all buyers of California properties were in bidding wars. The median home price in Los Angeles was a high $385,000, which makes buying properties that produce real estate cash flow a real challenge.
According to Blackstone, prices in California investment properties reached a point where they could not buy a home, rehab it and rent it and make any kind of return.
Among the twenty companies that buy up the most California investment property since 2012, purchases have declined more than 70% in the last year.
One of the places that I see many San Francisco investment property buyers, San Diego investment property buyers and Los Angeles investment property buyers coming is to San Antonio TX. I have several new cash buyers for real estate cash flow so far in 2016.
Here you can buy my under market value houses for $25,000 to $50,000 and make excellent real estate cash flow. Here is a great example.
A Good Example of Under Market Value, Cash Flow Property
This property was sold to my investor for only $25,000:
No one wanted this 'junk house' San Antonio investment property. I did! I saw the $100,000 houses next door lived in by the owners, and all of the revitalization going on in this area of San Antonio on the near west side.
Many out of state investment property buyers looking for real estate cash flow would never buy this house. My investor did for $25k, and then I did $27k in rehab:
Electrical update
New flooring (float new floor over that minor foundation issue after it's repaired)
Clean out
Update bath and kitchen with tile and granite
New light fixtures
Paint in and out
Finish second bedroom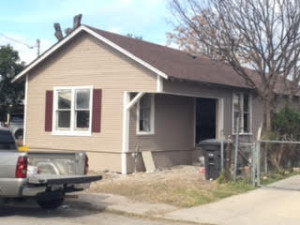 The ARV on this below market value property is $79,900. We just finished the rehab in the middle of January 2016. And guess what? By early February, we already had an owner finance buyer for it: $5000 down, $850 per month, $79,000 final price, 10% interest, 30 year note.
That is what you can do with San Antonio investment property in an under valued market such as San Antonio. Anyone who buys San Francisco investment property or Los Angeles investment property or Seattle investment property will never see these types of returns or prices.