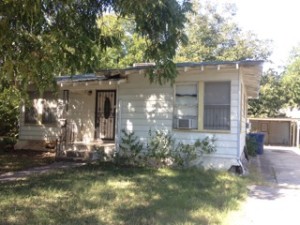 Address: 2229 W Hermosa Dr.  San Antonio, TX 78201
Year Built: 1948
Description: Under market value property sale in hot north of downtown neighborhood, 2 beds 1 bath, 769 sqft, built: 1948, lot size: .14 acres yearly taxes: $1,200.00, estimated yearly insurance: $800.00, estimated repairs on this distressed sale.
Rehab Option#1: Buy and rent with 15k in rehab,  includes interior paint, flooring, roof leak, and  appliances.
Max ARV: $114k to $119k.
Rehab Option #2: Buy and owner finance with 22k in rehab, ARV is $114k-$119k
Rehab Option #3: Buy and do 10k in rehab, and owner finance $99k, $995 per month, 5k down, 10 percent interest.
Cash Price: $69,000 firm.
Sold and Rental Comps: Sold Comps 1740 Edison Dr Rental Comps 1740 Edison
More Images:
Please contact us to make offer or ask questions.