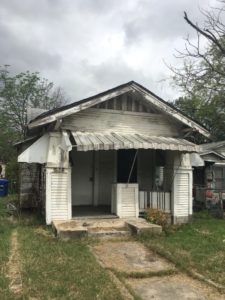 Address: 1547 N Center, San Antonio, TX 78202
Description: Affordable homes are at an all time high demand, excellent location east of downtown, needs to be converted into a 3 bedroom 1 bath, 1 beds, 1 bath, 677 sqft., estimated repairs: 40K, clean/lawn maintenance/interior paint/exterior paint, plumbing/electrical up to code, flooring, sheetrock/texture, roof, foundation, 2 room addition. Max After Repair Value: 99-109K.
Price: $35,000.00 cash.
Exit Strategy: Once rehabbed we recommend rent for 2 years then resell with conventional financing Or – Owner Finance with 15k in repairs: 5K down payment, $795.00 monthly PI/TI, 30 year amortization, 10% interest, Sales Price: 79K, see attached sold comparables.
Note: This is a very affordable, high ROI investment property that can be easily converted into a 3 bedroom, 1 bath.
More Photos: