If you are looking for a good place to move with affordable, growing real estate prices, good job opportunities and high ROI real estate investment opportunities, you should strongly consider Texas, and San Antonio.
Don't take our word for it: Forbes magazine has been touting the many economic benefits of living and investing in real estate in Texas in 2017.
According to a Forbes analysis of realtor.com data in 2017, San Antonio is the #4 city in America for where people are moving to. The median home price, while it has gone up since 2012, is still a reasonable $275,000. Unemployment is very low in San Antonio at just 3.7%.
Austin is ranked #5 for where people are moving, and the unemployment rate is just 3.1%. The median home price is up to $399,000, however.
When it comes to investing in high ROI real estate investments, you will have a hard time finding a better place than Texas, Forbes also reports. Many Texas cities, including San Antonio, receive high marks both for affordability and growth. Those are two of the most important factors when you are thinking about investing in real estate.
Forbes notes that Texas has several spots on its top 20 cities to invest in. It explains that the recession and housing crisis did not hit this state as hard as the rest of the US. This means that the state has bounced back faster and has been adding more jobs for longer and faster than most of the US. Job opportunities and affordable real estate have led more people to move to Texas, as of 2015, than any state other than Florida.
The magazine states that San Antonio is one of the top 20 places to invest for 2017 because the population of the city grew by an impressive 6.5% from 2012-2015. In 2016, home prices gained 7% in value and jobs growth was 1.7%. Homes are still under valued by 7%.
If you are looking for a good under market value investment opportunity in San Antonio, consider this one: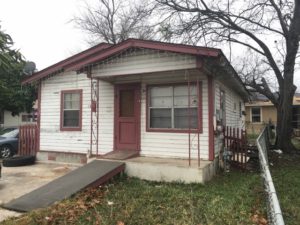 Address: 1319 S Hamilton St., San Antonio, TX 78207
Year Built: 1956
Description: San Antonio buy and hold investors and real estate investors  – Another Major cash flow opportunity, 30% instant equity under market value, almost cute cottage, needs minor help, booming San Antonio Market West of Downtown,  2 beds, 1 bath, 616 sqft, lot size: .05 acres, estimated repairs: 5K, clean/lawn maintenance/interior paint/front paint. Max After Repair Value: 75K
Cash Price on San Antonio Fixer Upper:  $45,000 CASH ONLY
Exit Strategy: Owner Finance with 5k in repairs: 5Kdown payment, $750.00 monthly PI/TI, 30 year amortization, 10% interest, Sales Price: 75K, see attached sold/rental comparables.