Now that the presidential election is over, I am seeing more new real estate investors who are thinking about getting into cashflowing real estate properties in San Antonio.
Many of these potential investors have good jobs and good incomes, and have so far saved and invested their money mostly in the stock market. But they are nervous about investing in real estate.
I think investing in the stock market is ok in a limited fashion. I was heavily invested in the market back in 2000, and I lost a large chunk of it in the crash after 9/11/01.
That experience taught me something important: Having one's life savings in the stock market is risky, even if you are well diversified. Since I lost so much money in the stock market at that time, I decided to invest in something solid – specifically, San Antonio under market value properties.
I strongly believe that investing in certain under market value San Antonio fixer uppers is an excellent long term wealth building strategy. My real estate strategy is usually to buy a San Antonio under market value property for $35,000 to $75,000 cash, do $5000 or $10,000 in repairs, and either rent or owner finance it.
Here is a great case study example; this property belongs to a California investor of mine:
The house above in on West Poplar Ave. in 78207 in San Antonio. It is a newly completed San Antonio investment property that was bought the the California investor for $44,000 in October 2015.
We conducted $10,000 of rehab on the property and put it on the market in December 2015. Total cost to investor was $54,000. It was resold in late January 2016 with the following terms:
$83,000 sales price
$5000 down
$627.61 per month ($800 per month PITI)
9% interest
30 year note
Note that this is a seller finance property, not a rental property.
That property is generating $627 per month in cash flow on a $54,000 investment with no other expenses.
But what if you don't want to do all cash deals? That's ok too. You can use your available cash to put a down payment on a property and to do repairs, and then either rent it out or owner finance it (this is called a wrap around mortgage).
In such a case, you should be able to net at least $250 to $350 per month in positive cash flow if you hold a mortgage on the San Antonio investment property.
Here is a current property that I have carefully scouted out that can generate 12-14% ROI after the repairs are done: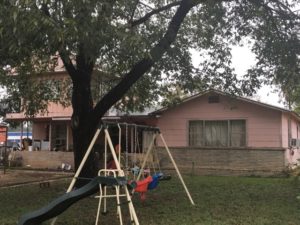 Address: 8013 FM 1518, Somerset, TX 78069
Year Built: 1955
Description: Tremendous cash flow investment opportunity in South San Antonio suburb, excellent school district and low crime rating, 3 beds 2 bath San Antonio investment property under market value, 2150 sqft, land: .16 acres, built: 1955, tax value: 84.9K, yearly taxes: $2,400.00, estimated yearly insurance: $1,000.00, Estimated Repairs:10K, ARV:79-89K
Cash Price on San Antonio Fixer Upper:  $49,000
Exit Strategy: Owner Finance with 10K in repairs: then resell with: 5K-10K down, $895 monthly PI/TI, 30 year amortization, 10 % interest, Sales Price 89K.
I recommend that a new San Antonio real estate investor work with an expert investor and real estate agent who has a large portfolio of properties. He or she can help you to get a good deal such as the above.