If you are new real estate investor in San Antonio or anywhere else, you may be considering doing San Antonio flips to build up your cash to do more real estate deals.
As an expert San Antonio wholesale property investor for 15 years, I've done hundreds of rehabs and have flipped many San Antonio properties. But before I go any further, if you are new to this discussion of real estate investing:
What Is a House Flipper?
This is a type of real estate investing where you buy a property (ideally under market value) with the intention of rehabbing it to a certain degree and reselling it for a profit. The profit is gained either from an appreciation of the price due to a booming real estate market, or from the capital improvements you make.
When I flip houses in San Antonio TX, I always make sure of the following for best results:
I buy affordable homes from $30,000 to $75,000.
I buy them at least 20% under market value.
I do $10,000 to $30,000 in rehab, depending upon the neighborhood. It is critical to fix a San Antonio flip property enough to sell it and get maximum ARV but not to overdo it.
I am happy to make $8000 to $10,000 per San Antonio flip as of April 2016.
If you are researching about flipping houses you may also want to know what is the 70% rule in real estate? This is a common rule that you hear in real estate flipping. It means that you should pay 70% of the ARV of the property, minus the repairs. That is the most you can afford to pay for that under market value property.
So, if the ARV of the house is $100,000 and needs $30,000 in repairs, the 70% rule states that you should pay a maximum of about $45,000 for that property. If you overpay for the property, your chances of making much money on a flip are much less.
I do not necessarily follow this rule precisely in all cases, but yes I know the maximum I likely can pay and still make my desired profit on a flip – $8000 to $10000.
Below is a nice flip that we did with a pair of local San Antonio investors. This worked out very nicely for them. If you do not overpay for the house and do not overrehab, your profit margins in San Antonio flips can be excellent!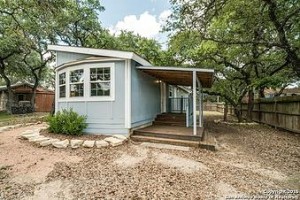 This under market value manufactured home is located near Canyon Lake, about 15 miles NE of San Antonio. It is a peaceful and beautiful part of our area. It was a distressed property sale that worked out well for the investor.
Our principal sold this property to a family of rehabbers in San Antonio for $50,500, who then did the $25,000 of rehab themselves:
Kitchen: $2100
HVAC repair: $300
Electric Fixtures: $900
Interior repair and paint: $4500
Exterior Repair and Paint: $3250
Exterior skirt: $800
Tree trimming: $500
Roof repair: $300
Plumbing: $500
New Water Heater: $2010
Bathroom: $1000
New floors: $2200
Dumpster: $1000
New Appliances: $1550
Rotten wood removal: $895
Deck repair and stain: $900
New mulch: $250
New windows: $2000
New Mail box: $100
Their total investment cost was $75,555, with a sold price of $99,970.
After commissions and closing, they had a profit of $18,000. Investors complimented us on providing them with a profitable first deal and accurate rehab numbers.