I advertise a lot online and on Craig's List to find new cash buyers out of state for our San Antonio investment properties and San Antonio turnkey properties.
I want out of state property investors to know they are dealing with a serious San Antonio real estate investor and operator in me. I know what I am doing and I have a long track record that proves it.
Sometimes, however, I get silly responses from some of my ads from negative, bitter types who don't like my San Antonio real estate investing. Usually they are failed real estate investors, in my experience, and they're jaded and cynical. Here's the most common silly email I get:
Negative Type: 'If you're so rich, why don't you just buy the house yourself?'
Me: 'Bye.'

I do not waste my time debating with negative people. But here is the answer to that question: I buy houses in cash every month that I do not find a buyer for 🙂. If the contract is about to expire, I buy it cash and hold onto the property. I raise the price by $5000 and I look for another investor to sell it to. I find one eventually.
Example: This below under market value San Antonio turnkey property was for sale for $55,000: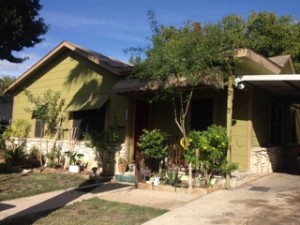 Address: 262 Bogle St. San Antonio, TX 78207-7471
Year Built: 1946
Description: Under market value cash flow investment, excellent back yard, well established neighborhood, 4 bedrooms, 2 bath, 1236 sqft, lot size: .16 acres, estimated yearly taxes: $2,000.00, estimated yearly insurance: $700, estimated repairs: 25K includes paint in/out, new HVAC, flooring, foundation, update kitchen/baths, etc.
ARV:  $99,900.
Cash Price: $55,000.
I did not find a buyer for the Texas turnkey property in time. So I bought the San Antonio wholesale property myself – cash – and a month later I sold it for $65,000 to an investor who used hard money. I made $10,000 on the house that no one wanted :).
I do that about once per month. But there are other reasons I still buy and sell wholesale properties in San Antonio: Because I love it! Most successful entrepreneurs never retire.
My real estate mission also is to transform San Antonio neighborhoods and clean up the city; a lot of progress has been made and I am proud of the part I have had in that. But to make more progress, we need out of state property investors to bring in more capital.
That is why I continue to advertise for out of state property investors in San Francisco, Seattle, Los Angeles, San Diego and Las Vegas, among other places. Those are good places to sell Texas turnkey properties.
My last word on this subject to the negative types is this: Your chances of real estate investing success are much lower if you have a bad attitude. Wise up.