I have been a San Antonio property wholesaler and investor for 15 years. No matter if the market is up or down, I always make money. In all those years, many investors have come and gone, and yet I am still making money as I always do.
What makes some investors succeed and others fail? Lots of things, but in my experience, I often succeed in investing in under market value San Antonio properties where others fail for a few big reasons:
#1 I Never Get Greedy
I cannot tell you how many times I have had this exact conversation with an 'investor':
Me – 'Hi Mr. Investor! I have this $50,000 San Antonio wholesale property for sale. You should buy it, I'll do $10,000 in rehab and then resell it for you with owner financing. You'll make $650 per month and earn 12% per year. A great buy and hold.'
Investor – '12%? That sucks! I want 20%!'

Me – 'Enjoy Detroit, ROI shopper. Bye.'
The purpose of this illustration is to point out that human greed prevents many investors from making money. Many investors always want to make a grand slam on 1 deal. They aren't happy with with $650 per month on a buy and hold in strong economic market such as San Antonio. No, they want to make 20% however they can….even if it means buying in a really bad area. They want to make more on a single deal than is realistic.
Working in San Antonio in under market value properties offers many great advantages: It's a booming market, population is growing, revitalization all over town, low unemployment, business friendly, and cheap real estate.
On the down side, because properties are less expensive, you are not going to make $500,000 on a deal like you will in San Francisco. But the ENTRY COSTS for San Antonio are so much cheaper! Take full advantage of that and do lots of small deals and make a bundle!
The way that I make up for that is by never getting greedy. I never turn up my nose at making $5000 or $8000  on a deal, or $650 a month on a buy and hold.
I do hundreds of small transactions per year, and that is how I managed to build $40k per month in real estate cash flow.
Don't get greedy, investors. It will cost you.
#2 I Don't Live in Yesterday's Real Estate Market
Here's another real life conversation I have had with many investors:
Me: 'Hi Mr. Investor! This house here is $55,000 and you will make $19,000 on the flip.'
Investor: '$55,000!?! It was $44,000 18 months ago! What a rip off!'
Me: 'See ya.'
Real estate markets change. Distressed properties in San Antonio are more expensive than three years ago. Many investors will look at a property that costs $55,000, one that they could make 13% on per year, and complain that the house was $40,000  in 2013. So what? Markets change! The property is still dirt cheap and you will still make a good return.
In this situation, here is what happens: I have the wholesale San Antonio property under contract. The investor passes on it. So, I buy it cash, I rehab it, and I owner finance it and make all the money. 🙂
Below is a great San Antonio wholesale property deal that if someone does not buy this month, I'll buy it myself and I will make all the money.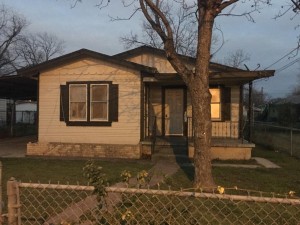 Address: 820 South San Manuel St., San Antonio TX
Year Built: 1950
Description: Under market value investment property, three bedroom, one bath that has 928 square feet. Beautiful home with TWO exterior storage units – this is a MAJOR selling point for the end buyer; most buyers are blue collar contractors, and they need their tools to be completely secure.
Max After Repair Value: $89,000.
Cash Price: $59,000.
Exit Strategy: Owner finance this out of state investment property with positive cash flow with only $10,000 in repairs completed in 30 days – $900 per month, $5000 down, 30 year note, 10% interest. This San Antonio investment property offers passive cash flow with no maintenance.
Alternative Exit Strategy: $10,000 in repairs and flip/resell retail – maximum ARV is $89,000. Profit $15,000-$20,000.
Notes: We recommend that you owner finance this out of state investment property because you will have no maintenance expenses. ROI will be ~13.7%.
In short, don't get greedy and don't live in yesterday's real estate market, out of state investment property investors!