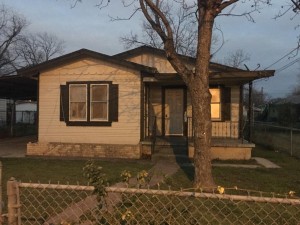 Address: 820 South San Manuel St., San Antonio TX
Year Built: 1950
Description: Under market value investment property, three bedroom, one bath that has 928 square feet. Beautiful home with TWO exterior storage units – this is a MAJOR selling point for the end buyer; most buyers are blue collar contractors, and they need their tools to be completely secure.
Max After Repair Value: $99,000.
Cash Price: $65,000.
Exit Strategy: Owner finance this out of state investment property with positive cash flow with only $10,000 in repairs completed in 30 days – $99,000, $900 per month, $5000 down, 30 year note, 10% interest. This San Antonio investment property offers passive cash flow with no maintenance.
Alternative Exit Strategy: Buy at $65,000, remodel $15,000, rent $995 per month.
Sold and Rental Comps: Sold Comps 820 S San Manuel Rental Comps 820 S San Manuel
More Images (more photos to be added soon):

Please contact us to make offer or ask questions.
Investors, you will never see a San Francisco investment property, Los Angeles investment property or a Seattle investment property at this price point and rate of return!