I can't tell you how many people I run into in my under market value  properties career who have good jobs and hate their lives.
That is, they make $200,000 or more per year and yet, they work 60 hours per week, sit in dull cubicles for years and years, and wish they had the time to do what they want to do.
The truth is, most of us have been conned into thinking that the ONLY way to live in America is to trade time for money.
And you know what Teddy our mascot says?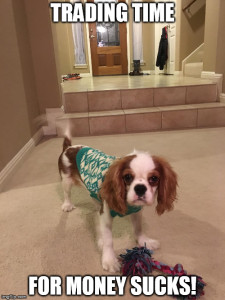 That's right. If Teddy knows that trading time for money sucks, you should be able to figure it out too. Passive income is the way to go – with under market value properties – at least 20% below market value. Who wants to sit bored in a cubicle or office for most of their working life? It's a form of slavery, even if you are well paid.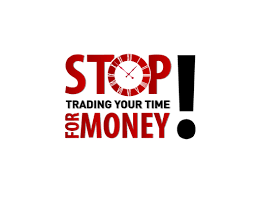 I stopped trading my time for money at a very young age – 23 in fact. That was the year I bought my first under market investment properties in San Antonio (I'm 38 now). I financially retired at 28, in San Antonio, one of the best cities to invest in real estate.
And I probably had it a lot tougher than you do….by this I mean, I didn't have a lot of capital to start with. I actually had to borrow capital at 8% from a private investor to buy much of my early portfolio in fixer upper houses. Yet I had plenty of passive income in under market value properties within a year of starting.
But a guy or gal like you…..you make $200,000 per year or more out there in California or Washington….you most likely have some capital stored up so that you can buy under market value investment properties, and STOP trading your time for money. This type of out of state investment property is perfect for you. Passive income fast.
Here is a quick plan to stop trading your time for money TODAY. I am going to assume you have some capital to work with (if you don't, go find some private investors to borrow money from like I did).
If you live in a high cost area, strongly consider buying an out of state investment property.
This under market value investment property is one that I have scouted out carefully in a very hot part of 78201, which is north of down town San Antonio. It is seeing a lot of young professionals moving in and property values are shooting up. There is a good chance you could get a young professional buying this under market value property from you, or a hardworking blue collar family: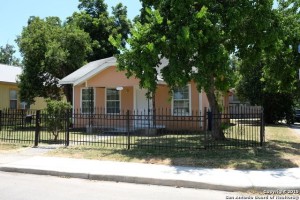 Address: 2229 W Hermosa Dr. San Antonio, TX 78201
Year Built: 1948
Description: Distressed property sale, 2 beds 1 bath, 769 sqft, lot size: .14 acres yearly taxes: estimated repairs: 35K (convert to 3 BR).
Max After Repair Value: $129,000.00.
Cash Price: $69,900 firm.
Exit Strategy: Owner finance 10% interest rate, $5000 down, 30 year note, $1100 per month PITI. Plenty of positive cash flow.
10% ROI no maintenance.
Here's how I was able to financially retire at 28 in one of the best cities to invest in real estate – I bought under market value properties just like these with cash or with borrowed cash. I do $35,000 in rehab (I now have a professional construction company that does this for me – no more getting my hands dirty). Then I resell the house with owner financing to a qualified buyer. What I do is super simple, and yet, so many people cannot see it !
The above out of state investment property will make you $1000-1100 per month, assuming you fund the deal with cash from your $200,000 or whatever job. In time you will be able to financially retire.
That's it. Buy, rehab, resell, and collect the cash flow. It IS that simple. Lather, rinse and repeat. If I did it, Teddy says you can become financially retired too: