As an experienced and successful investor in San Antonio investment property, all I buy and sell are houses that I lovingly refer to as 'junk houses' but are excellent San Antonio investment properties.
As I have noted in other case studies, the smart out of state investor needs to look beyond the surface unattractiveness of these under market value properties in San Antonio and see the value and potential for real estate cash flow underneath.
The house above in on West Poplar Ave. in 78207 in San Antonio. It is a newly completed San Antonio investment property that was bought the the California investor for $44,000 in October 2015.
We conducted $10,000 of rehab on the property and put it on the market in December 2015. Total cost to investor was $54,000. It was resold in late January 2016 with the following terms:
$83,000 sales price
$5000 down
$627.61 per month ($800 per month PITI)
9% interest
30 year note
Note that this is a seller finance property, not a rental property.
Total return for out of state property investor is 14% ROI. If you are interested in out of state investment property that earns 10-15% ROI with no maintenance, please contact us.
Below are more rehab pictures: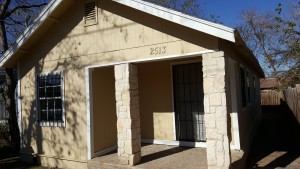 Based upon this 14% ROI return, I think you can understand why many of my investors from out of state USED to buy San Francisco investment property, San Diego investment property, Seattle investment property, and Los Angeles investment property. Now they mostly buy San Antonio investment property.