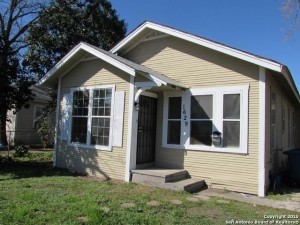 This 3 BR 1.5 bath affordable home north of downtown San Antonio TX is in a heavily revitalizing area. It was bought by the investor for $62,000.
It only needed approximately $10,000 of rehab, including new flooring, paint in and out, and minor foundation work.
The total project cost to the investor was $72,000.
Within 50 days of the completion of rehab, it was sold with owner financing with the following terms:
$5000 down
$89,900 final price
10% interest
30 year note
$937/month PITI
Cap rate 12.3%
More Pictures After Rehab:
Interested in Investing? Key Points –
$50-70k cash wholesale properties – mostly sold to California cash buyers
We qualify end owner finance buyers on job history and documented income per Dodd Frank rules.
All owner finance prices are FMV.
Typical terms – 30 year note, 10% int., $5000 down payment – varies depending on exact deal
Low foreclosure rate – resell to new buyer if needed
10-13% ROI is typical return
1-3 months to locate quality owner finance buyer
Tax/insurance payments are escrowed
5-10k rehab, no long term property maintenance
We have completed over 1,000 of these deals
Contact us to learn more