Home sales continue to climb in San Antonio and are staying on track for another strong, record-breaking year even though there are fewer homes available on the market.
In August, there were nearly 3,000 homes sold in San Antonio, for a 2.3% increase from 2016. The total number of homes sold for 2017 are 20,867, which is 4.3% above last year at this time. Experts believe that the market is going to break the previous record when almost 30,000 homes were sold in a year.
The median home price in San Antonio is up 3.1% in August to $218,400. This is the fourth highest median price ever in the San Antonio market. Local home prices are shooting higher as there is a shortage of construction workers and more housing demand caused by the growing population in San Antonio.
It is true that housing prices are going up in San Antonio. Still, we are finding plenty of under market value, San Antonio investment properties available for our investors' portfolios. Blue collar workers flocking to San Antonio for jobs need houses to buy with owner financing or to rent, so our business is still doing well.
San Antonio generally is still a good place to invest in under market value, high ROI investment properties, even if prices are higher than 2010. The strong, growing population and low unemployment rate indicate that this is a growing, robust economy with little signs of slowing down.
We also are seeing more accredited and non-accredited investors with solo 401ks and self directed IRAs buying investment properties in San Antonio for their portfolios.  Below is a great under market value property that will see major appreciation in the next five years.
————-
Potential more than 40K in profit on this investment. 1614 Alametos, San Antonio, Texas 78201. Excellent location, just north of downtown with a short distance to the river walk and the new San Pedro creek river walk extension (multi-billion dollar inner city revitalization project).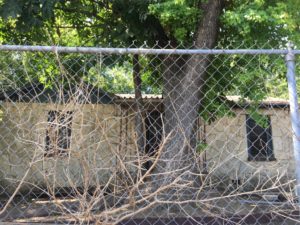 Properties in this location are expected to appreciate by more than 50% in value over the next two to three years. 1614 Alametos has a large back yard with shady trees. Currently the property is set-up as 2 bedrooms and 1 bathroom with a large patio in the back of the house. To get the maximum value out of this property and location, another bedroom and bathroom should be added. Estimated repairs: $65K with purchase price: $69K. Max After Repair Value: $199K.
Note: 1622 Alametos just down the street was sold to an investor in 2015 for $65,000. With $15,000 of rehab, the property was sold for $99,000 with owner financing for a 13% ROI. Home was sold within one week.
Price: $69,000
Exit Strategy: Buy, Rehab and Hold this San Antonio investment property.