The stock market is back on the way up, and could hit 20,000 in early 2017. Consumer confidence is also at a 10 year high, and many experts think that we are in line for a period of serious economic expansion.
Even though many investors are getting into the stock market, our top investors keep a lot of their money in under market value San Antonio investment properties. Many investors once put their money in the stock market and lost it in the 2001 or 2008 crashes. Generally, putting your capital into owner financed San Antonio properties or rental properties will do better over time.
If you buy your properties at the right price and in the right area, you can enjoy steady, long term returns of at least 10% per year. That is my goal: I want to make at least 10% per year on each buy and hold investment property. And if I can do better than that, well, that's just gravy!
The good news for San Antonio buy and hold investors is that I am finding more properties in early 2017 that are allowing high returns in the area of 15%. That's for two reasons:
I have found more under market value properties to put under contract in the $40,000 to $50,000 cash range. I have seen a bit of a dip in some prices in the homes that I buy. I don't know if that will last, but in the last three months, I've seen more sub-$50k homes in my neighborhoods than I did for much of 2016.
I am generally recommending that my investors owner finance houses rather than rent them. The major reason is that construction costs have increased in the last two years. This is making $10,000 rehabs for rental properties cost $15,000 or more. If you owner finance the investment property, you can spend maybe $5000 on rehab, and leave the rest of the repairs to the end buyer, who usually is a blue-collar Hispanic family who can handle rehab work. Saving $5000 or so in rehab costs increases your ROI.
With some of the under market value properties I have found lately in 78210, 78201 and 78207, I have seen investors hit 15-16% ROI. And that is a long term return – most people cannot count on their stock market portfolio making a steady 15% ROI!
Again, I am perfectly happy as an investor to get 10-12% ROI; that type of return allowed me to financially retire early, but these days I am seeing 15%+ returns on some homes. So give it some thought as an alternative to investing in the volatile stock market. Here is a recent San Antonio fixer upper with 15%+ returns potentially: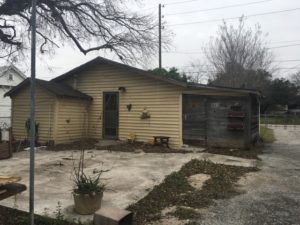 Address: 1360 Essex St San Antonio, Texas 78210
Year Built: 1956
Description: San Antonio buy and hold investors – Another cash flow opportunity, 1360 Essex St San Antonio, Texas 78210, 3 beds 1 bath, 1002 square feet, lot size: .19 acres, subdivision: Denver Heights, 6K repairs, clean/lawn maintenance/interior paint, After Repair Value: 79K.
Cash Price on San Antonio Fixer Upper:  $45,000 CASH ONLY
Exit Strategy: Owner Finance with 6k in repairs: 5K down payment, $795.00 monthly PI/TI, 30 year amortization, 10% interest, Sales Price: $79,000.00, see attached comps.  NOTE: We recommend owner financing this investment property rather than renting; you will be able to save your cash outlays on the repairs by owner financing it rather than renting. Renting out this San Antonio investment property is possible, but at least another $10,000 of repairs will be needed.