People often ask me as a top San Antonio property wholesaler if it is better to flip or buy and hold? My answer is an emphatic 'yes!' Of course, it is a complex question and which type of real estate investment strategy you are going to focus on right now depends upon many factors.
When I first started as a San Antonio investment property investor, I focused mostly of flipping San Antonio houses. There was a good reason for that: I didn't have much money! I found $2 million worth of private money and flipped 50 houses in my first year.
Many real estate investors like to focus their careers on flipping properties because they can (in theory) get their profits quickly and have their money tied up for as little time as possible. Another benefit of flipping is that it does not have the property management and long term holding costs that buy and hold investments have.
However, I am of the strong opinion that flipping San Antonio properties should be a short-term tactical strategy…like what I did when I started my investing career. Flipping a bunch of San Antonio properties was a means to an end: so that I could buy and hold a large portfolio of rental and owner financed properties.
Flipping Is Getting Tougher in San Antonio
I talk every week to investors who simply want to flip houses all the time. Or, they want to flip 5-10 houses per year, make $10,000 each, and eventually get into buy and hold real estate.
That is a viable strategy…..sometimes. However, the San Antonio real estate market continues to go up in value in 2016, and finding under market value properties in the 50-100k range (let alone the 100k+ range) that can be flipped for significant profit ($5000 or more) is getting tough.
In fact, it is getting so tough that last week I turned away three potential investors with more than $100,000 each to invest. I do not like turning away investors with six figures to invest in San Antonio real estate, but they wanted to only do flips.
As I have pointed out, flipping is hard to do profitably in this rising market now. Also, material costs have risen significantly due to the stronger economy.
Be Flexible!
There is nothing wrong with flipping houses, just as there is nothing wrong with buying and holding real estate. My best advice to many real estate investors is this: Be flexible in your investing strategy!
Many real estate investors limit their profits and ultimate success because they get stuck on one type of investing strategy no matter the market.
Personally, I strongly believe in buy and hold long term for wealth creation, but I'll do flips in the right market if they are profitable.
In my expert opinion, the current San Antonio real estate market is best for buying and holding real estate.
As the market here is changing, I am no longer recommending that people flip properties with me.
I am focusing mostly on buying and holding with owner finance, AND with section 8 rental property.
Why Section 8?
Section 8 gets a bad reputation in some quarters. I love Section 8! Consider:
You get a guaranteed electronic rental payment monthly
The rent is usually higher than market rates
The renter needs to take care of the house to keep their voucher each year
The GoSection8.com website makes marketing a breeze.
Naturally, I have to screen my section 8 renters carefully for work history, credit and criminal record, but I find that I can get a property rented in 4-8 weeks. Meanwhile investors can wait six months to flip a house and sell it retail.
Another benefit of buying and holding with section 8 is that you can buy the house cash, rehab it, get it occupied, and then cash out refinance the house and do another rental property. That's a great deal!
Below is a great little under market value deal that needs only 11k in rehab, and then can be rented section 8: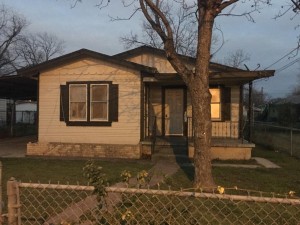 Address: 820 South San Manuel St., San Antonio TX
Year Built: 1950
Description: Under market value investment property, three bedroom, one bath that has 928 square feet. Beautiful home with TWO exterior storage units – this is a MAJOR selling point for the end buyer; most buyers are blue collar contractors, and they need their tools to be completely secure.
Max After Repair Value: $99,000.
Cash Price: $65,000.
Exit Strategy: Owner finance this out of state investment property with positive cash flow with only $10,000 in repairs completed in 30 days – $99,000, $900 per month, $5000 down, 30 year note, 10% interest. This San Antonio investment property offers passive cash flow with no maintenance.
Alternative Exit Strategy: Buy at $65,000, remodel $11,000, rent $1095 per month.