Buying under market value properties can be a wonderful investment, whether you decide to rent them out or owner finance them (as I do in my 100+ property portfolio).
Of course, the major advantage of buying under market value properties is the cash flow that they generate each month. On my below market value properties in San Antonio TX, I earn approximately $700 per month on my owner financed properties owned in cash. Here is an example: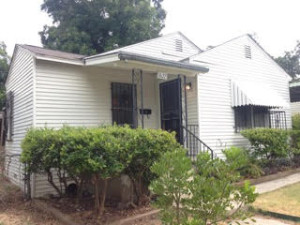 This under market value property was purchased by a CA cash buyer in July 2015 at 1622 Alametos St. This house is in 78201, and is north of downtown. This region is seeing rapid growth and appreciation.
The investor bought cash on this below market value property, and we completed $10,000 in repairs in 3 weeks:
$65,000 cash price
$1500 carpet removal and adding wood vinyl in 3 bedrooms
$3500 HVAC
$750 for third bedroom conversion.
$750 for dumpster – clean out
$1500 two tone interior paint
$500 update five light fixtures
$1500 level front bedroom
$1500 closing costs
Total Investment: $76,500
Repairs were complete on July 31, 2015 and property was put on MLS. By Aug. 3, we had two full owner finance, price offers as follows:
$1041 per month
30 year note
10% interest rate
$5000 down payment
$99,900 final price
$216/mo. taxes/insurance
Investor's total monthly income after taxes/insurance is $825.
Final ROI: 12.9%
Now that is some nice passive cash flow, isn't it?
Many under market value investors are not able to find good properties with cash flow in their home markets. So, they may be looking outside of their home market at out of state investment properties.
But where should you buy your under market value properties in another state? Hopefully I can shed some light on that key question here.
I have been fortunate that I do not need to consider buying out of state investment property because my returns in San Antonio TX are still over 11% per year, even with housing prices up a lot in the last year. Two years ago, a typical below market value property I bought was $40,000, now it is more around $55,000.
I continue to invest here in San Antonio, one of the best cities to invest in real estate, because the return is good and I have many advantages:
I have a real estate license in TX, which saves me big when I buy under market value properties.
I have a large network of contractors, fellow investors, lenders, agents, title companies etc.
I know my neighborhoods very well, which means I know how much to pay for a house and how much to resell it for. I also know how much to rehab a house without overspending.
But if you are an out of state investor looking for best cities to invest in real estate, what should you consider?
Before you start to look for out of state investment properties, I suggest that you increase the area that you are looking for under market value properties in your home state. If you only need to drive 90 minutes to find a good area to buy under market value properties, then that might have more appeal than looking 1000 miles away. If you are a California investor, this may not work for you though.
If you cannot invest in under market value property near you, think about areas that you know. Did you grow up in another state? Do you have any family or friends in a good state you can buy out of state investment property? The better you know that area, the easier it is to find below market value properties in decent areas.
If you cannot find a good out of state investment property where you know people, do you have time to research a new market? It is usually a good idea to visit a new investment property area and you can have a bit of a vacation while yo do so.
Look at lists online for the best places to buy under market value properties this year. You can find excellent resources online that tell you the cities with the best rent to value ratios. I personally prefer to owner finance my properties and not rent them, however.
How to Know If An Area Will Be a Good Under Market Value Investment
Once you have located a good potential below market value investment market, you want to know if you will be able to produce good cash flow. You want to make sure that the economy is strong and stable above all else. Getting the cheapest real estate is NOT the only consideration!
Is the population growing or shrinking? A growing population is a very good sign of a strong job market. Here in Texas, we are seeing major population and job growth as of 2016, even with lower oil prices.
Are housing prices going up or down? If housing prices are dropping, this is not always bad. During the 2008 crash, the values of under market value properties in San Antonio dropped, and it was awesome! I could buy houses for $30,000 again, and I did – more than 25 of them. However, if housing prices are crashing and the population is leaving, this could be trouble.
What kind of risk is in the area? Is it a part of the country that has a lot of tornadoes or floods? Are there crazy swings in housing prices? In San Antonio, we are pretty steady here. The market didn't go too high in the boom, so didn't fall that far in the crash.
What about property taxes? We have no state income tax here in TX but we have higher property taxes. Still, I've managed to financially retire at 28 years old with my owner finance portfolio of under market value houses.
If you are thinking about buying out of state investment property after you investigate the local market, you will need to have a good team to rely on in that area.
One way to minimize problems with property management in an out of state market is to owner finance your properties rather than rent them out. You can have a buyer live in your house and pay you mortgage payments each month. The buyer maintains the house, and if they don't pay, you foreclose just as a bank would. This can work very well in Texas, which is an easy foreclosure state.
In summary, there are many excellent below market value property markets to invest in. Just because you don't live in one does not mean you can't invest. If you are thinking about investing in another area for under market value property and have questions, contact me and I'll try to help.