Many investors wax poetic about the magic of leverage in real estate investing. That is, they say that by taking out a mortgage on an investment property and using a 10-20% down payment, you can buy more under market value properties and generate more cash flow.
I respect their position, but I disagree.
You can retire young by buying all cash investment property in San Antonio TX, one of the best cities to invest in real estate.  These are some of the best San Antonio real estate investments. Buying here in Texas is often better than say, California investment property, because you can buy so many houses with not much cash.
Why Do I Buy All Cash Investment Property?
I prefer incurring the lower risk that comes with buying properties all cash. My under market value investment property portfolio is:
Stable
Flexible
Can be sold quickly when and if I need to
By investing in all cash real estate properties, I have invested my money into a tangible asset that will usually produce cash flow, and may appreciate somewhat over time (this is not my priority – cash flow is).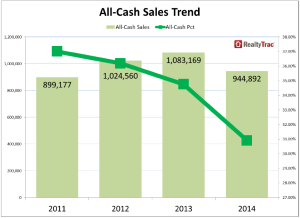 I also buy cash real estate San Antonio because I always owner finance my under market value investment properties. Many real estate investors take out mortgages and rent their properties. That isn't my model. I buy all cash real estate and then owner finance at 10%. I get superior cash flow over 10% per year and also have no landlording costs with San Antonio investment property.
When I Buy All Cash San Antonio Investment Properties
I typically pay $40,000 for the under market value property, and about $25,000 for the rehab. So I am in the deal for $65,000 and then owner finance it for fair market value – approximately $90,000. That property owned all in cash generates $800+ per month of positive cash flow.
If I had a mortgage on the house and rented it, I would have only $300 to $400 per month in cash flow, and also would have repairs.
For me, I buy only for long term, maximum cash flow when I buy property all cash in the best San Antonio real estate investments, one of the best cities to invest in real estate, IMHO. It's a good city to own an out of state investment property because houses are cheap, there are lots of qualified buyers, and cash flow is excellent especially with owner financing.
More Considerations When You Do All Cash Investment Property
I don't worry about a bank giving me a mortgage for investment properties. I can close fast – in 10 days. That gets me some great under market value properties.
My real estate investment portfolio is safe and stable. I never worry about having a mortgage to pay when a renter skips town.
I incur less risk as I do not worry about appraisals on my properties. If your lender sees lower appraisals in your neighborhood, they may loan you less money.
In the real estate crash, I sold several of my all cash investment properties quickly when I needed money from my San Antonio investment property.
Buying all cash investment properties usually means you buy in affordable cities. Make sure you do research to figure out where to buy your all cash investment property. As of right now, prices are up in some markets, but if you save your cash, you may be able to pick up houses for a substantial discount in the next downturn.
In short, I recommend that people looking for an out of state investment property buy property all cash, as that is the best way to enjoy maximum cash flow with low risk.