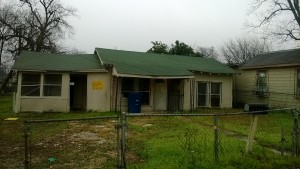 This is an example of our lower priced affordable homes. These houses will sell in our neighborhoods in San Antonio TX. It is a 4/1 on Colima Ave. in the 78207 zip code. It was purchased by the investor for $20,000 cash, which was well under market value. He had it repainted in and out and the door secured, and other minor fixes. That cost him $5000 total in repairs.
Houses in this range and location do not require major repairs and upgrades to resell.
We then sold the house with owner financing to a qualified end buyer. The buyer was qualified according to SAFE Act – documented income, tax returns, pay stubs, employment verified. All Dodd Frank underwriting rules were followed.
Terms:
$3000 down
$400 per month PI/TI
30 year amortization
10% interest
No prepayment penalty
No balloon
Final price: $39,900 (FMV)
ROI: 12%
Note: The final price for the owner finance buyer is FMV and DOES NOT constitute 'predatory lending,' which is illegal per Dodd Frank regulations. Sold comps in the neighborhood on properties of similar size, age and condition are approximately $39,900 to $49,900 – if elec and water work and roof is not leaking.
A CMA was run on similar houses within a two mile radius. Max value in that area for similar houses is $99,900 for an immaculate property that has been updated.
More Pictures:
Interested in Investing? Key Points –
$50-70k cash wholesale properties – mostly sold to California cash buyers
We qualify end owner finance buyers on job history and documented income per Dodd Frank rules.
All owner finance prices are FMV.
Typical terms – 30 year note, 10% int., $5000 down payment – varies depending on exact deal
Low foreclosure rate – resell to new buyer if needed
10-13% ROI is typical return
1-3 months to locate quality owner finance buyer
Tax/insurance payments are escrowed
5-10k rehab, no long term property maintenance
We have completed over 1,000 of these deals
Contact us to learn more