Out of state investment property investors, this San Antonio investment property has two houses on one lot and offers you a quick $7000-$8000 on a clean and resell flip, or 13-14% ROI on a buy and hold.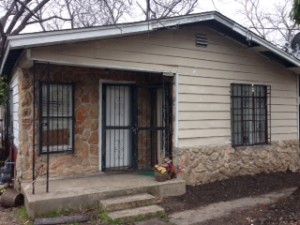 Address: 3230

La

Violeta

St., San Antonio, TX 78211-3728
Year Built: 1950
Description: 2 homes for the price of one;  Home #1, 3 beds 2 bath, 928 sqft, built: 1950, lot size: .15 acres, home needs minor plumbing, carpentry, paint, cleaning, estimated rehab cost 10K, Home #2, 2 beds, 1 bath, 600 sqft, has been remodeled no repairs needed
Cash Price: $69,000
Exit Strategy: Owner Finance with 10K repairs: 5-10k down, $900.00 monthly P/I, 30 year amortization, 10% interest, Price: 89K, ROI will be 13-14% per year. ; or do $1500 in quick clean up and flip to another investor at $69,900. This is a 2 for 1 deal and will resell quickly.
Additional Costs: $1500 commission to me on wholesale, $2000 in closing costs, $1500 commission to me on resale, $2000 in closing costs on resale (taken out of $5000 down payment from buyer).
Profit Year 1: 12% ROI
Profit Subsequent Years: 13% ROI
Flip Profits: $7000 to $8000 after expenses (I recommend doing at least 1 of these per quarter to build cash base and then do 1 buy and hold for every 2-3 flips).
More Pictures:
Investors, you will never see a San Francisco investment property, Los Angeles or a Seattle investment property at this price point and rate of return! This under market value property is a good option to invest in real estate with IRA, or invest in real estate with 401k.