As most real estate investors in San Antonio know, billions of dollars of development have poured into San Antonio in the last 20 years. And the city is really starting to get on the national and international map, both as a tourist destination and also as a place to find high ROI investment opportunities in Texas and elsewhere.
The New York Times just wrote a new piece about taking 36 hours to visit San Antonio, and it highlighted much of the revitalization of the Alamo City in the last few years. For example, did you know that the River Walk, which opened in 1941, was expanded in 2013 from the three mile tourist section to a full 15 miles?
The downtown area of the River Walk is where all the tourists flock, and it's great; there are many wonderful bars and restaurants along the narrow sidewalks. But the River Walk is now much bigger, and you can walk two miles down to the wonderful Pearl Brewery area. There you can enjoy a less crowded and less commercialized walk as you pass art installations, wetlands, and even an underpass that features a very cool soundtrack of singing birds.
For San Antonio real estate investors, this development has led to property appreciation, better investment opportunties, and more are slated for the future.
On the east side of town, the local developer Efraim Varga plans to invest $150 million into a mixed use development called Essex Modern City. It is going to include 80,000 feet of office space, 65,000 of retail space, 250 apartments, 150 condos and 80 townhouses.
Developers of this space are hoping that tech companies will move in to lease some of the creative office space. The site of the development is very close to the Alamodome, Hemisfair and the San Antonio River, so the development is expected to do quite well.
Meanwhile, I continue to buy  San Antonio fixer uppers, which are doing very well with all of the revitalization this city is seeing. I am seeing stronger demand for my end buyers with my owner finance program. Most of my neighborhoods are within a few miles of downtown and much of the revitalization that is taking place: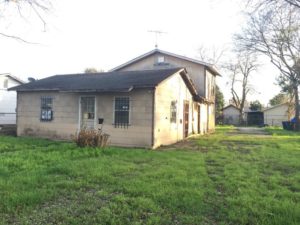 Address: 3118 Owasso St. San Antonio, TX 78211
Description: San Antonio investors, flip this house for a nice profit,  4 beds 2 bath, 1560 sqft, new homes on the same block, estimated repairs:60-80K, Price: 49K, Max ARV: 159K-189K, estimated profit: 40-80K, 3 month major project.
Cash Price on San Antonio Fixer Upper:  $49,000 CASH ONLY
Exit Strategy: Flip with 60-80k in repairs, profit 40-80k.