If you are like many San Antoni real estate investors, you only have so much cash to invest in your buy and hold properties.
When many of our investors started out, they only had 10k or 20k or their own money.  When you have limited investment capital like that, you have a few options before you:
Buy under market value properties and flip them for a profit
Buy and hold rental properties in cash and save the cash flow to buy more
Buy and hold rental properties with mortgages and buy more with cash flow
Both of those options for investing in properties can work well, and I have done both. Naturally, both of those strategies have downsides:
Flipping properties can be challenging to do profitably in some markets. For example, in 2016, flipping affordable homes in San Antonio for significant profit is more difficult as prices have risen the last two years, and construction costs have increased with the stronger economy. Finding under-market value properties that allow a flip profit have been hard as well. That's why some flippers i know have been doing few deals lately.
I believe in buying and holding properties as rentals or with owner financing for cash flow. But it obviously takes a long time to save up cash flow to buy more properties. I prefer to buy my homes with all cash and it will take a long time to save up the capital for more, but you also can buy them with 3.5% or 5% down if you can qualify for the mortgages. That way you can buy more homes faster.
Another way to build up your portfolio of under market value San Antonio fixer upper properties is this:
Buy your first San Antonio investment property with all cash.
Rent it out after you fix it, and wait a year.
With property values rising, you should be able to do a cash out refinance of that property and get enough cash to at least do a down payment on another property.
Note that you will need to have considerable equity in the rental property; many lenders want 80% or lower loan to value to do a refinance.
Or, consider pulling equity out of your personal residence and buying rental properties, or owner financing them. If you are getting 3-4% interest and you put that money into a property that makes you 12% or 14% per year, you really cannot go wrong. You will need to work with an expert investor to show you how to do it, and you also need to buy the right property, but this is very doable in San Antonio right now, as prices on affordable homes are often under $50,000.
Here is a nice San Antonio investment property I have right now that will return 12-14% per year: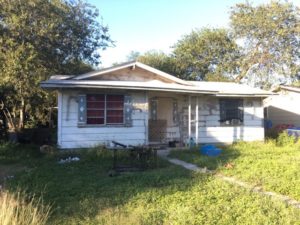 Address: 127 Hopkins St. San Antonio, TX 78221
Year Built: 1972
Description:  Location Location! Very popular neighborhood with extra-large back yard south of downtown. This is a high ROI, under market value San Antonio investment property ! – 3 beds 1 bath, 850 sqft, built: 1972, Lot Size: .16 acres, Yearly taxes: $1,052.00, Estimated yearly insurance $600.00, Estimated repairs: 5K, landscape tree removal, trash removal interior/exterior. ARV: 69.9K
Cash Price on San Antonio Fixer Upper:  $39,900
Exit Strategy: Owner Finance this San Antonio investment property with 5K in clean up: 5k down, $695.00 monthly P/I, 30 year amortization, 10% interest, Price: 69.9K.