I talk to many new San Antonio real estate investors every week, and I am talking to more than ever this past month. San Antonio TX is now on the radar for a lot of out of state property investors.
There are many new San Antonio wholesale property investors coming into the market every month. The reason is that San Antonio is booming.
Real estate prices are up but still affordable. The population is growing, unemployment is low, and wages continue to rise. Houses are selling quickly in the hot parts of town as well.
And while the prices are higher than two years ago, it still is very possible to make positive cash flow on under market value San Antonio properties.
If there is anything I would tell the new San Antonio real estate investor it would be this:
Don't be greedy, and have realistic expectations!
I often talk to investors from out of state who are used to investing in more expensive areas, and earning $25,000 on a flip. Or I'll talk to a Midwestern investor who thinks he can make 20% on a buy and hold here.
I've been working as a real estate investor in San Antonio real estate since 2001, and I have made many millions of dollars by making $7000 on a flip and $12% per year on a $650 per month buy and hold.
I am very happy to make those types of returns. I basically do lots of these small San Antonio investment property deals each year. Each flip makes me $7000 or $10,000, or each buy and hold makes me 11% or 12% per year, and I am fine with that.
Too many investors focus on doing a few grand slam deals each year. What they should be doing in San Antonio real estate investing is making a solid return on dozens of deals each year!
If you want to make $25,000 or $50,000 on a flip, you need to move into big projects, ones that go for $200,000 or more. And that my friends gets a lot more complicated and expensive than my little $50,000 or $60,000 San Antonio wholesale property deals.
It's also more risky. In 2008 when the market tanked, I got stuck with a bunch of $1 million San Antonio real estate investments that were no longer worth what I paid for them. That's what can happen when you are trying to flip expensive homes at or near market value.
Buying little under market value San Antonio houses such as mine is a lot safer. You just have to be happy making $10,000 on a flip.
I currently have several good $10,000  San Antonio flips available, and these are excellent returns that you can make a lot of money on. You should not pass on a deal because you will not make $30,000 on a flip. I advise doing at least 4 per year and making 40-50k. Then use that cash to buy San Antonio buy and hold property.
Below is an excellent 10k San Antonio flip property you should consider: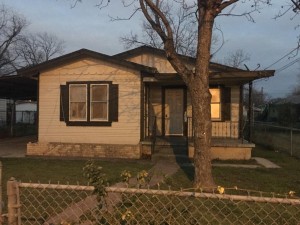 Address: 820 South San Manuel St., San Antonio TX
Year Built: 1950
Description: Under market value investment property, three bedroom, one bath that has 928 square feet. Beautiful home with TWO exterior storage units – this is a MAJOR selling point for the end buyer; most buyers are blue collar contractors, and they need their tools to be completely secure.
Max After Repair Value: $99,000.
Cash Price: $69,000.
Exit Strategy: Owner finance this out of state investment property with positive cash flow with only $10,000 in repairs completed in 30 days – $900 per month, $5000 down, 30 year note, 10% interest. This San Antonio investment property offers passive cash flow with no maintenance.
Alternative Exit Strategy: $15,000 in repairs and flip/resell retail – maximum ARV is $99,000. Profit $10,000.