To get started with your first San Antonio wholesale property if you don't have much cash, you probably should start with a simple fix and flip project.
When you flip an under market value San Antonio property, you will buy it 20-30% under market value, and then do $10-30k in repairs so that you can resell it on the retail market.
Of course, there are many mistakes you can make when you fix and flip a San Antonio property, and you really have to know what you are doing. My advice to a rookie is to not take on a fix and flip project alone, at least for your first deal.
Wherever you are, I recommend that you work with an experienced real estate investor who ideally is also a licensed real estate agent. That investor can help you to find a good under market value investment property and guide you on how much repair to do.
If you are a handy type, perhaps you can do the repairs yourself. If not, your investor partner may be able to do it for you.
In my case, I have several full time work crews helping me with San Antonio flip properties and San Antonio buy and hold properties.
If you are going to do your first property flip project on your own, be sure to read this article I wrote about how to get hosed when you do your first fix and flip.
If you are interested in flipping San Antonio properties to build up cash, I can help you with it if you like.
You will need probably $20,000 cash to get started on your first flip. The rest can be funded through one of my hard money lenders. Cash is always best as it is cheaper, but if you don't have it, hard money it is!
Expect to make $8000 to $10000 on your first flip. Below is a great first San Antonio flip property: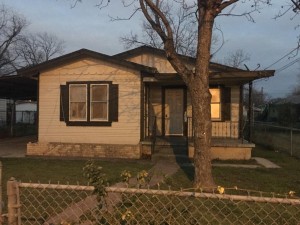 Address: 820 South San Manuel St., San Antonio TX
Year Built: 1950
Description: Under market value investment property, three bedroom, one bath that has 928 square feet. Beautiful home with TWO exterior storage units – this is a MAJOR selling point for the end buyer; most buyers are blue collar contractors, and they need their tools to be completely secure.
Max After Repair Value: $99,000.
Cash Price: $56,500.
Exit Strategy: Owner finance this out of state investment property with positive cash flow with only $10,000 in repairs completed in 30 days – $900 per month, $5000 down, 30 year note, 10% interest. This San Antonio investment property offers passive cash flow with no maintenance.
Alternative Exit Strategy: $25,000 in repairs and flip/resell retail – maximum ARV is $99,000. Profit $10,000.