I have made my real estate investing career in buying and selling under market value properties in San Antonio TX that most investors are afraid of.
The under market value properties for real estate cash flow that I buy are scary looking, but you just have to look beyond the exterior ugliness and see the potential of the house and the neighborhood.
I just had yet another under market value success story I wanted to share with you. My out of state investment property investor bought this 'junk' house for $25,000 in November:
It had sat empty for years and was part of an estate sale. Now this house was ugly, no question about it. But it is located in an up and coming neighborhood in 78207, where the city of San Antonio has spent millions of dollars putting in running trails, parks, shopping plazas, green space and so on. This 'junk' house is only 2 miles from downtown and all the tourist attractions of the city.
Yet this under market value house sat for months and no investor wanted it. I grabbed it and now my investor has excellent real estate cash flow.
Right next door to this 'junk' house were these owner occupied homes:
Those houses right next door are worth more than $100,000, but no one wants my under market value 'junk' house because it's temporarily ugly: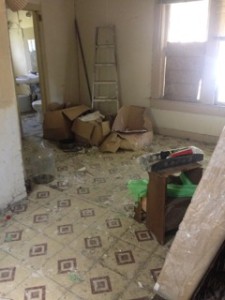 The conventional investor cannot see past the ugliness, but I saw the potential here because of the neighborhood revitalization and the nice houses around it.
So, I sold this house for $25,000 to an out of state investment property investor who did $20,000 in rehab (which I did for him in 30 days), which included:
Electrical update
New flooring (float new floor over that minor foundation issue after it's repaired)
Clean out
Update bath and kitchen with tile and granite
New light fixtures
Paint in and out
Finish second bedroom
Below are the after rehab pics:
The ARV on this below market value property is $65,000. We just finished the rehab in the middle of January 2016. And guess what? By early February, we already had an owner finance buyer for it: $5000 down, $650 per month, $65,000 final price, 10% interest, 30 year note.
The house was on the market for less than a month. So on a $45,000 investment, the out of state property investor will earn about 12% ROI with no more repairs because we owner financed the house.
This is the kind of under market value investing I do – I buy 'junk' houses that other investors reject and turn them into little gold mines with steady, no maintenance real estate cash flow.