New and even experienced investors often ask me how I was able to build monthly positive cash flow of more than $40,000 per month – without starting with much capital.
There are many factors involved, but at the end of the day, my strategy is very simple for real estate cash flow:
I buy 20% under market value investment properties in San Antonio, Texas.
I perform about $25,000 in rehab in 45 days, and then resell with owner financing to earn a 10-12% ROI.
I also have a great good luck charm named Teddy, which you will learn about if you stick around long 🙂
Now these are not very expensive houses; after all, this is San Antonio TX. My typical property is $60,000 or so wholesale, which is then resold with owner financing for $100,000 or so.
Each one of my below market value properties earns me 'only' $400 or $700 per month in positive cash flow. Some investors – especially those on the West Coast – might snicker at such a 'small' return.
However, one thing I have learned over 15 years in real estate investing in under market value properties is this: I would much rather do 100 'small' deals per year, than 1 or 2 'big' deals.
My little, bitty 3 bedroom houses for $100,000 or less may not look like much, but when you have 50 of them owned in cash, you are talking serious, positive cash flow. And that is what allowed me to financially retire at 28.
These little houses are becoming even more valuable in San Antonio these days, given how the economy is growing. The north side of downtown, especially 78201 zip code, is appreciating very well. I love to buy fixer upper distressed properties in this area – under market value.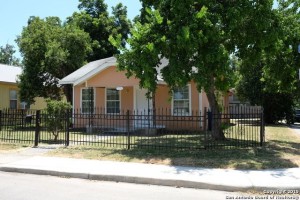 This house 2229 W Hermosa, San Antonio TX 78201 is a typical hot deal north of downtown that will do very well for the savvy investor.
After I do $35,000 in rehab on this below market value property, I will resell it for the investor with owner financing. I've bought and sold hundreds of houses in this area, and I know that I can resell this property with owner financing for $129,000. That will generate approximately $1,000 per month in positive, long term cash flow for the investor.
It is on under market value deals just like this one that I have built a large nest egg of real estate cash flow that made me financially retire so young.