It has been a very busy 2016 in our under market value investment property business in San Antonio TX! The housing market and economy here in South Texas is strong, even with the cheap oil prices.
We have just rehabbed and resold another of our out of state property investor's distressed houses that I wanted to share with you.  This was another of those 'junk houses' that so many investors pass by but I always buy.
Note: I like to lovingly refer to my properties as 'junk houses.' I love that most investors see them as 'junk' and run away from them. I have made millions off of 'junk houses' that other investors are scared of.
The smart investor just has to look beyond the exterior ugliness and see the potential of the house and the neighborhood.
These San Antonio investment properties are a bit run down, but are in up and coming neighborhoods where there is a great deal of revitalization occurring. All they need is some rehab and they can be resold with owner financing to a hard working, blue collar family.
The under market value investment property address is 166 North San Horacio, 78207. Here are the before images of this distressed property:
This below market value investment property is on a large lot for this part of west San Antonio with large mature trees in the front yard.
I sold this San Antonio investment property to a San Francisco investment property investor for $41,000. We then performed $10,000 of rehab on the property, which included paint in and out, minor foundation work, bathroom touch up, plumbing and electrical work, and new light fixtures.
Note that this is a seller financed property, not a rental property.
After rehab pictures: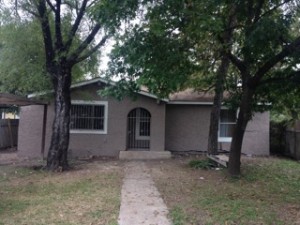 The rehab was completed in December 2015. We got an owner finance contract on this under market value investment property in February 2016 for the following terms:
$76,000 price
$5000 down payment
$622 per month
30 year note
10% interest
Total ROI: 14.6%
Note can be resold after 1 year
This under market value investment property cost the San Francisco investment property investor $51,000 total and has an annual ROI of 14.6% – without any maintenance or repairs.
This is the type of real estate cash flow that you can make with out of state investment property in San Antonio TX! Most of my investors used to buy California investment property, San Francisco investment property, Los Angeles investment property, or San Diego investment property, and now they only buy here 🙂