As you probably have figured out by now, Teddy is our official mascot at TexasCashFlow.com :). He is a one year old Cavalier King Charles Spaniel. Teddy is our good luck charm and he often goes with me to my under market value Texas property job sites.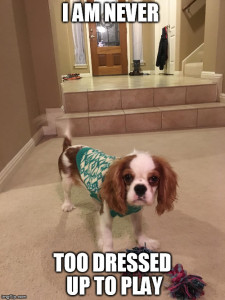 The Cavalier King Charles Spaniel is a very active, affectionate and small dog. While Teddy is happy being a lap dog and snuggling, he also is very playful. My wife and I can easily throw him a ball 100 times for an hour or more and Teddy keeps running back happily wanting more! I'm like, hey Teddy, I have to be at a job site at 6 am tomorrow man! Can we take a break? Nope, says Ted –
The Cavalier is actually one of the most popular dogs in the UK although is rarer in the US. These are really loving dogs and are often used as therapy dogs for returning veterans.
Anyway, we love Teddy here at TexasCashFlow.com. If you ever decide to take a look at some of our under market value investment properties in San Antonio, you have to meet Teddy! JM